TEAM NORWAY: Redesign for the European finale  
Team Norway breaks new ground in Bocuse d'Or Europe in Tallinn, when the platter is served it will be gracefully composed of elements from candidate Christian André Pettersen's former competition platters, from the national qualification in Norway in 2015, to the grand finale in Lyon in 2019. 
One of the grand moments of any Bocuse d'Or competition is when the platters leave the kitchen. Not only is it a spectacular sight for the audience and judges, but it is also the opportunity for the chef to present their idea, theme and identity. Team Norway has opted for redesign in the European finals, the reason being that the effects of the corona situation prompted a new force of creativity. The team have created a concept inspired by past competitions, shaping it into an entirely new expression.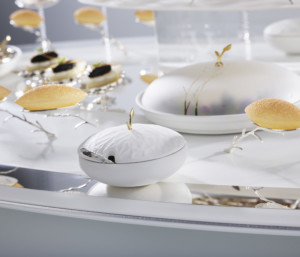 – The effects of the pandemic have made us to think outside the box and create a novel and unique platter that give the food wings to fly, while also reducing costs. The idea is to capture highlights from my previous competitions, starting from Chef of the Year in 2015, 2017 and 2019, Bocuse d'Or Europe in 2018, and the world final in Lyon 2019, Norway's candidate Christian André Pettersen explains.
The platter and structure are from the national qualification 2019, the circular transparent foundation from the European final in Torino 2018, bowls and custom designed lids from Bocuse d'Or 2019, and elements from the national qualification 2015 and -17. The overarching theme for Team Norway this year is "seasons". All elements over this time period has been developed by the candidate, his team and incredible Norwegian designers.  
– The fact that we chose to go for redesigning and gather inspiration from the candidate's previous competitions, makes his personal journey as a chef the common thread in the presentation, explains Arne Sørvig, CEO of The Norwegian Gastronomy Foundation.  
New challenges and sustainable platters
The process in developing a concept is demanding, and involves chefs, designer and other creatives persons.  
– Develop recipies and design supportive concepts is crucial in these competitions. It usually starts with a clear inspiration. E.g. in Torino 2018 we based our aesthetics and design on drawings of arctic botanical systems combined with spring season in Lofoten, from here we picked our main ingredients. When an idea works, it illuminates everything we do.  
Current coach and longtime professional director in the Norwegian Bocuse Chefs Academy, Gunnar Hvarnes elaborates:  
– In recent years, great things have come from working with designers like Katinka von der Lippe and Lars Tornøe. The idea of redesigning past design collaborations did not seem far-off in any way. Personally, I believe we hit the mark with our solution and that it carries well our ideas behind this year's recipes and menu development. Also, in addition to reducing costs, there is a clear sustainability aspect in this. Many delays during this year have made this a long journey and given an opportunity for ideas to mature. We look forward to presenting the results in Tallinn. Taste and presentation is key, and we are confident that we will give our competitors something to they won't forget, Coach Hvarnes concludes.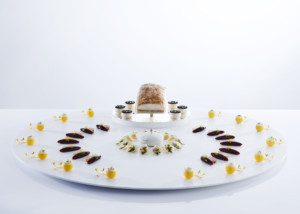 "Storytelling with food" demands even more creativity from the chef.
Development and design of platters are demanding and resource-consuming, so in 2019 the Norwegian Bocuse d'Or Academy decided to use a mandatory standard platter for the national qualification, allowing only for smaller customization to express personal identity. In that way, candidates had to use all their ingenuity and efforts to develop techniques, taste and aesthetics, while they were given even more difficult raw materials ad tasks. Like serving a whole saithe on a platter, for a 12 jury member panel.  
 – We saw in 2015 and -17 that budgets for platters for some of the individual candidates mushroomed. The national qualification is a competition that selects the best chef among equals, and the chef's personal ability to master the profession and aesthetics with ingredients, or merits, must decide the winner. This is a philosophy we call "Storytelling with food". Maybe this change made a decision to redesign for the European qualification easier, says Arne Sørvig. 
The presentation of the catfish plate challenge will also differ a lot from previous competitions. Usually the plate dish consist of a main ingredient, garnishes and sauce in separation on the plate. In Tallin the team will integrate all ingredients, making it into a complete experience on a high-end Nordic restaurant. 
 – I am so pleased to see how the team will not let any hurdles coming their way stop them. Instead, they use the time to let their creativity flourish and push each other further, Sørvig concludes.    
 Photo (from top to bottom): 
1: Plate, NORD, Bocuse d'Or 2019, photo Tom Haga 
2: Plating detail from the NORD , Bocuse d'Or 2019, photo Tom Haga 
3: Plate, ARCTIC SPRING, Bocuse d'Or Europe 2018, Turin, photo Tom Haga 
4: Plating detail from the ARCTIC SPRING, Bocuse d'Or Europe 2018, Turin, photo Tom Haga 
5: «Tribute to the saithe» dish from Chef of the Year 2019, photo: Tom Haga